Hello,
meanwhile I have developed a plugin for the new plugin interface of FireCapture. The plugin requires the DIY Seeing Monitor described in this topic:
viewtopic.php?t=16746
.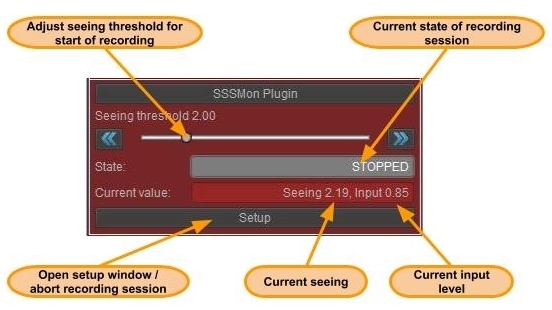 This plugin provides the following functionality inside the FireCapture software:
SSSMon measures the current seeing
Recording is started if seeing reaches configured minimum quality
Recording is paused as long as seeing is worse than configured value
Recording is stopped after configured time
After recording is stopped and after a configured pause time, a new recording run can be started automatically
The maximum number of recording runs is configurable
Screenshot of an example setup: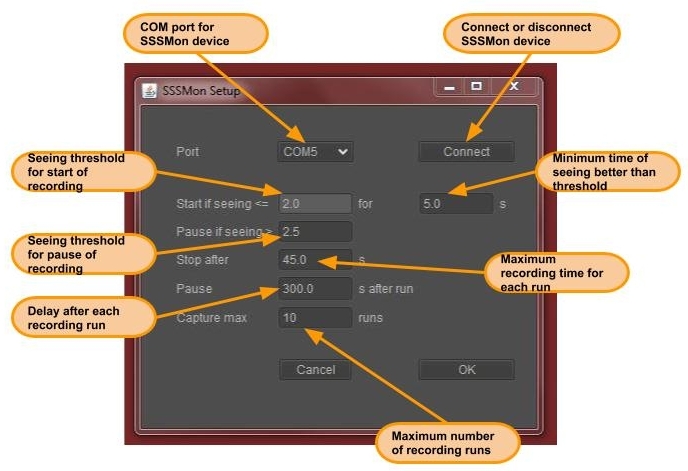 With this setup, the recording is started as soon as seeing is 2.0 or less (smaller value means better seeing). The recording is stopped after 45 seconds. As long as the seeing is worse than 2.5, the recording is paused. After a recording finished, there is a (minimum) delay of 5 minutes (300 seconds) until the next recording might start (if the seeing is better than 2.5 again). A maximum of 10 recoding runs is executed.
Start this setup, have some cold beverage and let the plugin hunt the moments of good seeing.
You can find the plugin for download and additional information on my website:
http://www.joachim-stehle.de/sssm_eng.html
. Have a look into the documentation for a detailed description how to install and use the plugin.
Feel free to download the software and report your comments.
Joachim